Office Relocations & Defits
Taking the stress out of office relocation
Need to relocate your offices? Want a stress free and easy solution to your office move? Then call the experienced Team at the Office Doctor.  With over 25 years in business, the professionals at The Office Doctor can handle the logistics, transportation and furniture fit-out at your new offices and save you the time and effort. 
Planning and preparation are key to a successful office move and the team at The Office Doctor have perfected the art of moving efficiently and effectively.  Time is money in business, and when you've got The Office Doctor on the job, your move will be planned with military precision to ensure maximum efficiency and minimum downtime and disruption. 
Expert help and advice on
office relocation
Whether you are moving interstate, across town or simply moving floor, The Office Doctor team are always available to help you plan, organise and complete your office move.  From expert advice on how to prepare for your move, to a site measure to check your plans are workable, we're with you every step of the way.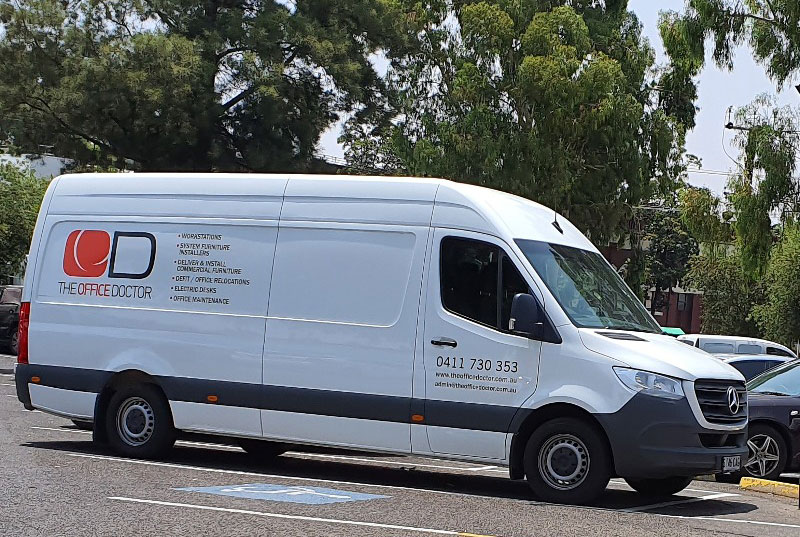 Precision planning
When planning your move, The Office Doctor will take care of everything from dismantling your desks, packing and transporting your furniture along with installing it, and any new furniture, at your new location.  If you've got furniture you no longer use, we'll recycle it or dispose of it for you so your space is completely cleared as per your end of lease requirements.  With The Office Doctor handling your move, you can relax and focus on running your business while we take care of the planning and logistics of moving it.
A critical factor in any office move is ensuring that your existing office furniture actually fits into your new space and your layouts work with the building infrastructure.  To avoid any issues The Office Doctor will measure your new site and double-check your layouts to ensure that there is sufficient space, electrical and data provisions to accommodate your set up.  We'll check that the placement of your desks and seating conforms to the latest regulations and that there are no restrictions that may affect your proposed layouts. 
Office defit and end of lease furniture removal
When the end of a lease is looming it is often a stressful time for business owners.  The Office Doctor can help relieve that stress and provide a complete office relocation or office defit service you can rely on.
If you are not relocating your office equipment our experienced team can dismantle or decommission all your furniture, filing cabinets and shelving and move them to storage, recycle them or dispose of them for you.
Where it is necessary to dispose of furniture, The Office Doctor use environmentally friendly waste management companies who are usually able to strip your furniture down and recycle its component parts.
Need some commercial furniture installed or reconfigured?  Then call or drop us a line.